27th May 2008
Brian and I were lucky enough to start off our Memorial Day weekend with a trip to Atlanta, just the two of us. He had wanted to go to a Friday evening criterium (yes, life does revolve around racing), but I wasn't inclined take the kids for the late night and long drive. So with a little smooth planning and some gracious free babysitting by his parents, we treated ourselves to an early 5th anniversary trip. Brian used Priceline.com to get a 4-star hotel – the Grand Hyatt Atlanta in Buckhead – for well under $100.
Brian's race was at 9:45pm, but we were worried about the traffic, so we left just after our kids went down for naps at 2pm. With all the traveling we do as a family, it really was a treat to be just the two of us. We can have full conversations, listen to our own music, stop or not stop as we please. We had an extravagant dinner at Panera, (um, it wouldn't have been my choice, but Brian got to choose since it was his pre-race meal). We drove through the fancy schmancy upscale Atlanta neighborhoods on the way to our hotel (Vinings and Buckhead) and saw all kinds of houses for sale, including this one. Gated estate on 3.5 acres, with 10 bedrooms/10 baths for just under $8.5 million. Whew! What do you do with a house like that?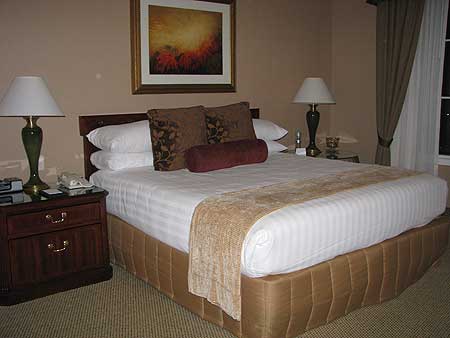 We checked into our hotel before we headed to the race. Very nice. The highlight of the room was the iHome alarm clock/iPod dock. How cool! I'm really hoping to get one of those for Christmas to use with my new iPod (which I'm loving). The view from our 8th floor room was out over the Japanese gardens and waterfall, the huge parking garage, below, where we managed somehow to snag free overnight parking (instead of $17 in the hotel lot), and the pretty skyline of the Buckhead skyscrapers… and construction cranes. Josiah would have loved that part.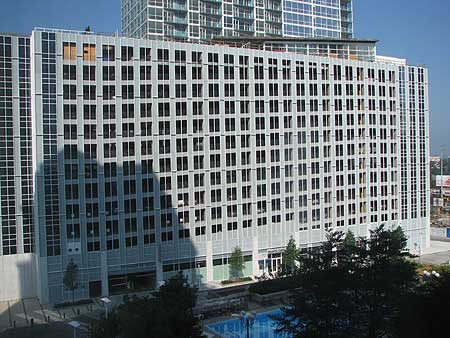 We headed off to the races with plenty of time to spare. Instead of entertaining kids while we waited for the race, I got to read my magazines and help Brian get ready to go. And instead of keeping track of kids and dividing my time between them and the race, I was able to cheer and take photos, though they didn't turn out so well.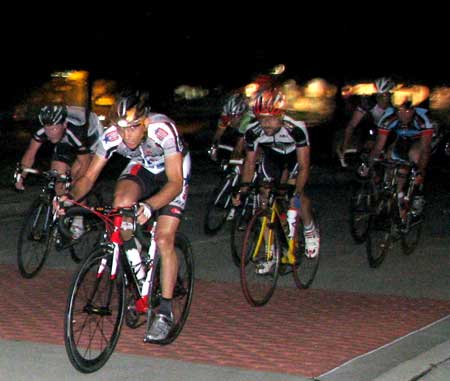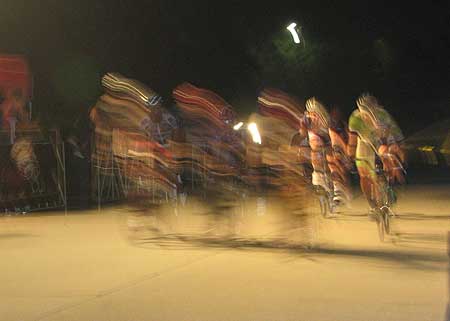 Brian's the 3rd blur from the left, right in the center. Yes, the finish was fast!
I think my favorite part of the weekend was sleeping in, which is unheard of at home with our super-early-birds. We slept until 9:30, which felt so luxurious. Then we explored the Japanese gardens and managed a quick photo of ourselves in front of the waterfall.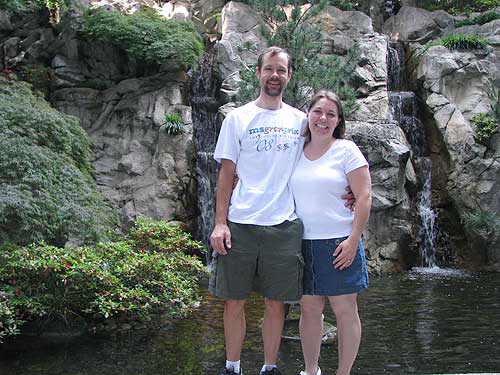 After checking out, we drove back through the fancy neighborhood, even stopping off at a garage sale. Nothing we needed, but there was some really nice stuff, though not the best garage sale prices 🙂 In Vinings, we found a cute little french cafe for a fabulous breakfast and picked up our Starbucks for the trip home. We made it back just before the kids needed to nap. Less than 24 hours gone, but it was such a nice break!