11th June 2005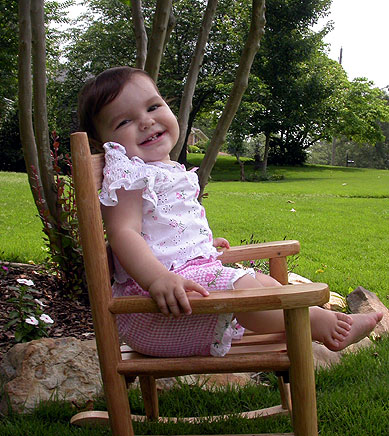 Now that Analise is walking, we figured it was time to find some good shoes for her (and she's outgrown all the hand-me-downs I'd been given). Earlier this week we visited a kid's shoe store found a cute pair of sandals we were debating about. But yesterday we thought we'd check out Stride Rite in the mall.
It all started when I got detoured by Bath & Body Works' Clearance sale (going on through Sunday!). I sent Brian and Analise on to look at shoes briefly while I shopped a bit. When I joined them, Analise was toddling around the store in these shoes: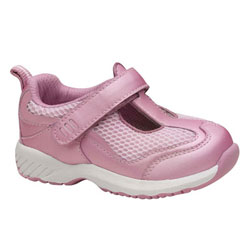 Cute… but not what I was imagining as the all-purpose shoe. I know it's a woman thing, and men don't quite understand it, but this hot pink shoe wasn't going to match all her outfits. I had envisioned a nice, simple white sandal, maybe with a tiny bit of pink, like this: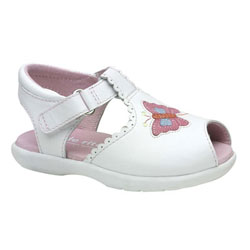 Brian was pretty convinced that Analise was walking better in the pink shoes than she was in the sandals. After a lot of waffling, I gave in. I'll just chalk it up to the first Daddy/Analise shopping trip. It is kind of sweet:) If anyone mentions her pink shoes when she's wearing a red outfit, I'll smile and tell them her daddy picked them out… I think they'll understand!