12th June 2005
I've spent the weekend trying to get a few projects finished. First off, I wanted to have the invitations for Analise's birthday party printed at one of the photo kiosks around at any number of places. Attempt #1: At Walgreen's, I realized that I'd created the invitation as 4.5″x6″ (instead of 4″x6″ for a normal photo size), thus the writing was being cut off. Attempt #2: Brian couldn't find the image on the smartmedia card when using the kiosk at Sam's Club. Attempt #3: After Brian places the order on the machine, the clerk tells him that the printer isn't working, and MAYBE it'll be fixed tomorrow. GRR. We had hoped to have these done to put in the mail early this wee. We'll see if we can get them done tomorrow. *SIGH* Here's a peek for y'all… not sure if you're close enough to come, but you're definitely invited!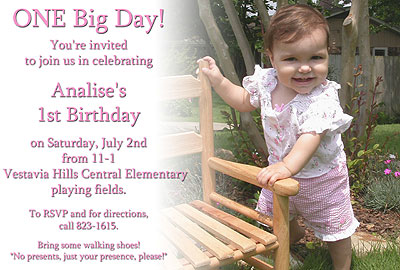 I've also been working on a handmade dress for Analise's 1st birthday. Down here in the South, smocked dresses are quite a fashion statement. They're very beautiful and very expensive. A friend of mine taught a few of us how to make a smocked dress, so now that all the hand embroidery is done, I'm in the process of sewing mine together. (Let me just say: I don't mind hand sewing at all. In fact, I enjoy cross-stitch, embroidery, crocheting, etc. But using a sewing machine stresses me out.) Anyway, I sewed one seam (2x to reinforce it), found the tension on my silly machine was off, and spent an hour ripping it out (without a seam ripper). I'm going to be so glad to finish this dress. It is a labor of love, and you'd better believe you're going to see a picture of it on my beautiful girl when it's done!
Hope your weekend was more productive than ours! By the way, Tropical Storm Arlene blew through last night with some rain and gusting. Check out the bit of damage it left in our neighborhood here at Weather Underground (picture by Brian).