28th August 2005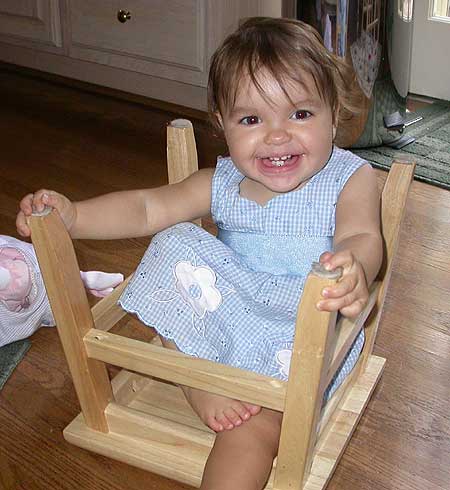 My Little Adventurer
I should have realized back when Analise was almost 8 months old and got herself stuck between the end table and the wall (click if you've not seen the picture) that she was always going to be up to something. Well, she's now progressed to climbing. Yesterday she learned to climb onto an 18″ small stool I keep in the kitchen. I found her proudly standing on it. Not cool. Today as I was working in the den, she was in the kitchen trying to get back onto it, so I turned it over. I went back to work, and it got very quiet in there for a while. I finally decided I needed to check on here. This is what I found:) I left her sitting there, wondering if I'd hear her needing help eventually, but she got herself out just fine. The adventures continue…
Tub Troubles
Analise loves bathtime, splashing and playing with her toys. The other day, I was watching her and she tried to stand up, but squatted down. When I reached down to pick her up and sit her back down I found a few "logs" floating!!! Yuck! Brian came running at my holler. I cleaned Analise off, and he disinfected the tub and toys. Analise was a bit disappointed that her bathtime had been cut short.
What Else is She Up To?
While my mom was here, Analise had a personality explosion! My mom took the time to write down all the things she is up to, and it's quite a list.
Words she's saying: "Daddy", "uh-oh" (probably the most frequent), "mm-mm-mm", "oooh", "num-num", "no-no-no" (not used as the actual word, I don't think, but when she really really really wants to communicate something). She's trying to say lots of words, and she chatters all the time. It sounds like she's speaking Japanese fluently.
She rocks in the rocking chair, stands in it, sits her stuffed animal in it and rocks them.
She balances things on her pull toy to give them a ride. She says "uh-oh!" when they fall off.
She pretends with stuffed animals and dolls, sitting them in high chair or strollers, trying to put clothes on them.
She started snuggling, hugging and kissing her stuffed animals.
She kisses pictures of animals in books.
She loves books. She spends a long time pulling books off the shelf, turning them right side up, turning the pages, before going onto another book. She loves to bring you books to look at with her. She is particularly into lift-the-flap books and pop-up books.
She climbs up stairs and slides down on her bottom. She gets really excited to do this:)
She dances when she hears music, and she's started walking backwards and sideways.
She straddles and sits on the soccer ball and then bounces on it a bit. She enjoys pretending to talk and listen on an old cell phone.
Favorites: Stuffed gorilla, pink and white penguin, Baby Einstein DVDs, cuddling with Mom before a nap, balls, plastic tubs or boxes to sit in, lasagna, any kind of beans, bananas, peanut butter and jelly sandwiches, watermelon, teddy grahams, ice cream and string cheese.