17th March 2006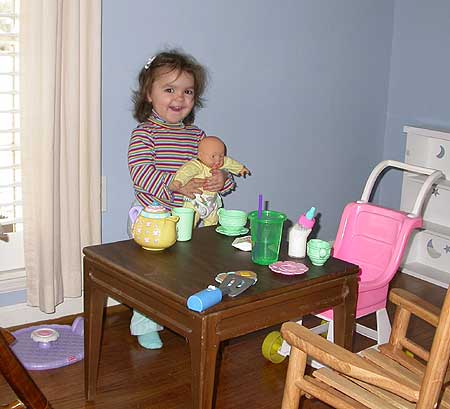 I had a doctor's appointment on Wednesday morning and came home to find Analise and my friend Lauren having a tea party in the guest bedroom. I snagged this picture later in the day – after her nap, which is why her hair is fuzzy – and the table was not so neatly set, but it was still an enjoyable tea time, just the same. If you come visit us, I'm sure Analise will serve you tea, as well!
I've been fighting a sinus infection all week, and maybe – fingers crossed – today's the day I start feeling better. I'm more than ready… it's exhausting to be sick and have to be mommy. Poor Brian hadn't had anything decent for dinner since last Thursday, so he was excited that we had our home church over last night. Mmmm… good food – Paula Deen's (from the Food Network) Barbecue Meatloaf. I have never really enjoyed meatloaf, but this was GOOD and very easy. I made dessert, something nearly identical to this recipe – Paula Deen's Gooey Toffee Butter Cake. Instead of toffee bits, I used 1 cup of chocolate chips, melted with 1 cup of the cream cheese batter, poured on top and marbled. It was delicious!
Thank goodness today's Friday. I've missed my swim class all week, and I can definitely feel that my body is missing stretching and moving in the water. But my regular babysitters – Grandma Beverly and Grandpa Tom – are in South Carolina for the week, and I've been coughing so much, I'd probably cough through the whole class. Besides being Friday, spring break starts today for Brian. Woohoo! We don't have much planned except to hopefully get out and enjoy the beautiful spring blooms and catch up on a few household projects. Hope everyone's doing well!