25th March 2006
Click on any of the pictures in this blog to zoom in to see a larger picture.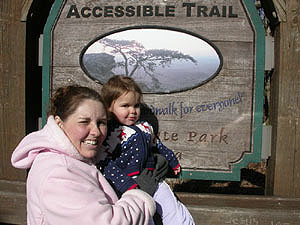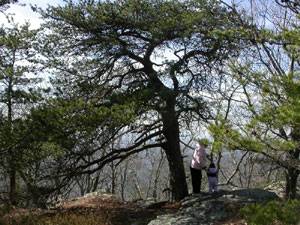 We are enjoying Spring Break here in Alabama! Woo-hoo! We drove to Alabama's highest point, Cheaha Mountain,
on Wednesday. It was a cool, clear, beautiful early Spring day. We drove some nice back roads to get there
following the same route that I took when I biked to
Samford's new faculty retreat in January.
Analise decided to carry on an interesting conversation about ducks, cows, mommy, and daddy for almost
the entire two hour drive. She's been amazingly observant in the car, keeping her eyes
constantly open for ducks and doggies. The conversation went something like this:
"Ducks? Wheah ducks? Moah (more)! Mommy, Daddy ducks! Doggie? (doggie sound) Ahh gone.
Moah? Moah! Ducks! Mmmmmmmmoo! (constipated cow sound)." I wish we could have taped it.
Very entertaining. She's such a chatterbox lately! The other amazing thing was that she didn'
t nap – as we thought she would – on the entire 2 hour trip in the early afternoon.
Too much to talk about, I guess!
We parked at a lovely boardwalk trail that takes you to a beautiful overlook. (See the pictures at the top of this page).
Alongside the trail, though, is a rocky path that takes you to the overlook as well. We decided to take the path and let
Analise try hiking on her own for the first time. She loved it! She's like a little mountain goat! My dad would be so
proud to see his little granddaughter climbing all over the rocks. She wanted to stand on top of all the rocks she found.
When she'd get past a rocky section, she'd take off running. A bit precarious, but we didn't have any spills, amazingly.
At the overlook, we spent some time climbing the rocks, and from a distance away, Analise hard a dog, and she was
determined to get to it. We visited with the sweet Australian sheep dog, while Analise alternatingly lunged at him to
kiss him and leaned away as he nuzzled up to her. She loved it – going between squeals of laughter, cries of "Doggie!"
and her little doggie sounds. The dog loved her enthusiasm, I think:) We took the boardwalk trail back, and we had to
practically run to keep up with Analise.
After a short rest, we drove to the highest point on the mountain so we could check out the amazing view. We had to
climb up an old observation deck (built in the 1940's) to get above the trees. Analise was amazing. She climbed up all
62 stairs (we counted on the way back down). The view was great, but we were ready to go hiking again. Off we went, and
we found a waterfall next to the road. We parked above the waterfall, and found that there was a cool pond behind it.
I told Analise that we might see some "fish" in the pond. Analise responded by saying, "Pish, Pish, Iwanpish, Iwanpish".
We actually didn't see any fish, but there were hundred of tadpoles swimming around.
All of our adventuring left us pretty hungry, so we decided to have dinner at the restaurant located on a cliff next to
the edge of the mountain. Analise was so good even though she had not had a nap all day, and she had hiked, climbed, and
walked all over the mountain, too. During dinner though, Analise pulled over a cup of ice water and it spilt all over her.
The shock of the cold water led to some crying, but we exchanged her wet onesie for a sweat jacket and all was good.
Then we watched a beautiful "God-painted" sunset together. A biker (motorcycle) told us that the sunset was God-painted,
and we agreed. Finally, we left to drive home, and Analise was asleep within five minutes of leaving and didn't
wake up until the next morning. We drove home on part of the Cheaha Challenge bicycle route. Whew! Can't wait to do that
ride in May.
Pictures, pictures, pictures! Click on any of the pictures in this blog to zoom in to see a larger picture.