10th July 2006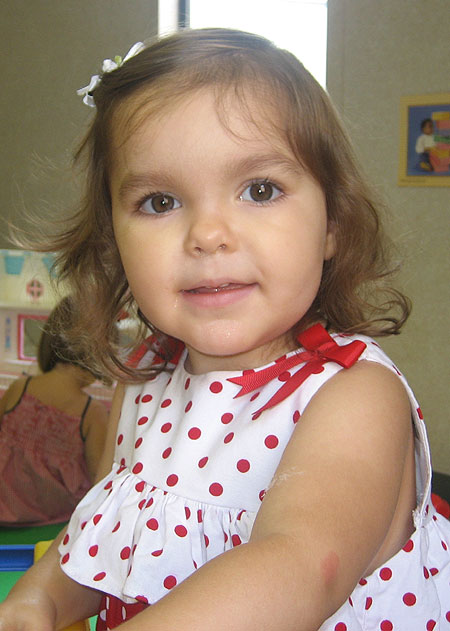 We had a laid back weekend, and it's been a quiet Monday, as well. Brian is test-riding a super-fast-and-fancy bike to replace his that was pretty much totalled in the accident. I wondered how the bike can really be that much faster… isn't it Brian that's fast? Well, he headed out for a 3 hour ride yesterday, which he's done before, and he knows well. He was home in less than 2.5 hours! I was pleasantly surprised, and he's excited about the bike.
We had a wedding shower to go to on Saturday night, so Grandma Beverly offered to babysit mid-afternoon to give us a chance to hang out. Analise had a wonderful time playing at Grandma's, as usual, and we relaxed at Barnes & Noble, browsing books about Alabama looking for fun things to do with the Hafflys when the come in just over a month (yeah!!!). Then we ventured to a new restaurant, Up the Creek Fish Camp and Grill. Brian said on the way in he wasn't sure he was in the mood for fish, but there were so many options we eventually settled on sharing the Charbroiled Tilapia with Lobster Creole cream sauce. It was outstanding! Tilapia is very not-fishy tasting, the seasonings were great, and the cream sauce was the perfect touch. We also shared an appetizer platter of fried things – pickles, green tomatoes (neither of which I enjoy, but are AL specialties), shrimp, hush puppies and chicken tenders. It was a great meal! Then we headed to the shower for our friends Natalie and Shane, which was a great time to relax and catch up with friends. I had a great time, but I was so tired. Josiah was with us, but he slept nearly the whole time, including being passed around from one set of arms to another at the party.
Brian's at work right now, I'm about to head off to fold some laundry, Josiah is asleep, and Analise is snacking next to me. I feel like we're doing pretty good today:) This week is a little busy with dentist and doctor's appointments, getting ready for VBS at church next week, and school for Analise on Wednesday. We'll keep you posted, and hopefully, I'll find some time in the next day or two to post a couple cute pictures from yesterday.