18th July 2006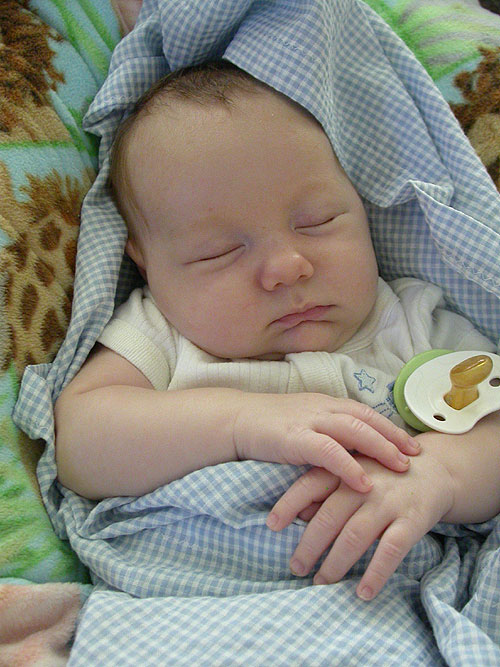 Brian's teaching Vacation Bible School, and Analise has been going with him. So for most of this week, it's just Josiah and I on our own in the mornings. WOW – is life easy with one child! I'm taking plenty of time to hold him, just as he enjoys so much. He's such a snuggly little baby! He really sleeps so much better during the day when he's in someone's arms, but if he can't be held, he's sleeping a bit better if he's swaddled tightly. But when I do have some time with my hands free, I'm at a loss with what to do with myself because there's so many things to get caught up on! Empty the dishwasher, clean the kitchen, pick up toys, fold laundry, write thank yous, address baby announcements… where do I start?? I'm making a little headway, but let this serve as a preliminary "thank you" to those of you deserving it. And for those of you looking forward to a baby announcement… I'm slowly but surely working on it!
Crazy enough – here I sit with a few minutes to myself, and what am I doing? Taking pictures, uploading them and writing a blog:) Just want you all to get a chance to enjoy some of the sweetness I get to see! (The one below was taking as I was holding him, and I was contorting myself at a weird angle, trying not to move bc I didn't want to use the flash. The things we do for pictures of our kids!) I think in the last couple days, Josiah's outgrown the "newborn" phase and now he's more of a baby. He's plumping up, his baby acne is clearing up, he's got much better control of his head (unless he's sleepy), he's more awake/alert, and he's enjoying looking at us like he actually sees us. He really is a handsome little man!
Yesterday, I had a doctor's appointment, and since Brian and Analise were at VBS, Josiah went with me. Then we visited the pool to say hello to all my swim classmates. They were thrilled to meet Josiah, of course. Tomorrow, while Analise is at her last day of "school" (Mother's Day Out at Lakeside), I'm getting a pedicure courtesy of a gift certificate from church with my friend Lindsay. In the evening is a fun event that our church is hosting, One Amazing Night. It'll be a carnival with all kinds of FREE fun stuff to do. Hope it's not too hot!
In case you're wondering, Brian's doing ok. He's awfully sore from his crash on Sunday, and he's slowly scabbing over. He's a bit grumpy because he had to ride to work this afternoon, but I suppose with the temp nearly 100 and a heat index over 100, it's probably a good thing. He's supposed to talk to the police officer this afternoon to see if anything's changed about the hit-and-run. We'll keep you posted. Gotta run… Josiah's awake and hungry!