21st April 2007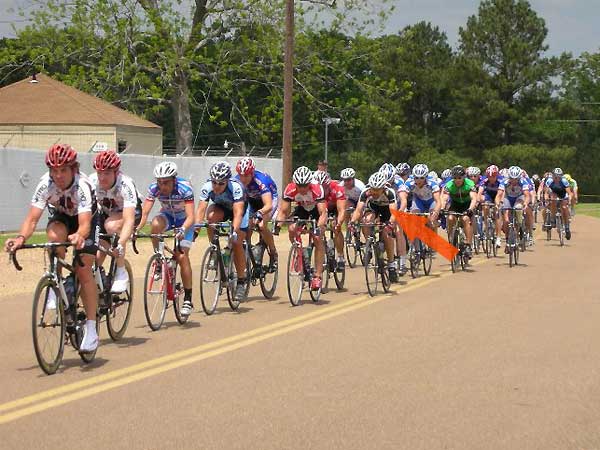 Brian on the last day of racing. He placed 5th in this race.
Brian's in Mississippi this weekend for an omnium bike race, which is a series of races that all score towards an overall prize. He's feeling much better than he did last weekend in Tennessee, thankfully. Last night, he placed 7th in the criterium. In this morning's road race, he placed 6th, and though he's not sure of the results of the time trial this afternoon, he was very pleased with how he did. There are some really good racers there, and this is a great weekend for him to get some notable results. He's got one more race tomorrow morning, and we'll let you know how he did overall. But he's pretty sure that as long as he finishes relatively well tomorrow, he should place in the overall (GC) prize money. Yeah!
I'm managing on my own. Josiah's not sleeping well, but other than that we've had a good, quiet early weekend. I will definitely say that I think single moms are amazing, as I surely couldn't do this very often. But it's nice to feel like I have things under control… at least for a time!
I've started finding little chores for Analise to help me with. One of them is putting away the silverware. She'll pull her little stool over to the drawer, I'll dump the silverware on the counter, and she'll happily sort them all into their spaces. She loves it. She keeps saying, "Mommy, you're proud of me?" It's so cute. I keep telling her how much I appreciate her help. "Mommy, you 'preciate me?" It's sweet!
Josiah had about a month of gobbling down baby food, but now he's got severe food jealousy. He wants whatever Analise is eating, and Analise, in turn, often wants his Gerber fruit or veggie puffs, his shredded cheese, or one of his crackers. But he wants anything she's got… pizza, noodles, cereal, cookies. Today at the grocery store, the bakery lady gave Analise a cookie, and he had a little fit because he wanted something. He grudgingly munched on a cracker (actually 5 of them throughout the store), while I kept reminding Analise to try to stay out of his reach. In the last two days, he's had mashed chicken spaghetti and mashed sweet and sour meatballs. And he won't let me eat any form of dessert without complaining LOUDLY that he needs something. And he cannot be convinced that grapes are equivalent to a brownie. Smart boy.
One other Josiah favorite of the moment is shredded cheese. He'll start making little panting noises, stretching his arms and legs out in desperation when he sees the cheese. I shred a little pile onto his tray, and he happily gobbles it down. (Only about half of it makes it to his mouth, although he's gotten really good at his pincher grasp. Tiny shredded cheese is hard to get!)
Happy Saturday, everyone!